You won't always have to ask "What if"?
No one can escape the recent high profile and positive news about breakthroughs in Covid-19 vaccines, quick turnaround tests and mass-testing trials. This news gives every reason to be assured of a positive outlook for the events industry, and soon. Boris was recently quoted saying that he 'can hear the distant sound of the bugle coming over the hill'. We are definitely not at the end of this crisis yet but the increase in some share prices of large hotel chains is a signal that points in the right direction. Travel and real, face to face, proper human interaction is calling.
At S3k Group we're always developing new concepts for our clients and of course ourselves. We encourage our whole team, regardless of role, seniority or function, to share their ideas, and to voice them frequently. Some may not always pay off but being optimistic when taking risks (and taking risks) is an important part of our organisational culture. We'll always give something a go and if it doesn't work out? Who cares. We'll learn and use it as an opportunity to adapt, gain knowledge, or highlight an area we need to improve or diversify. In short, taking risks and following new ideas, frequently, makes us stronger and more confident.
One thing we've seen across sectors is that the inclination for individuals (and businesses) to take risks during this pandemic has been strong. People have set up side businesses because they've had to, others have diversified, others have started something totally new. It's all good, creative, stuff. And the events sector especially are talented at this ongoing process of idea generation and creativity.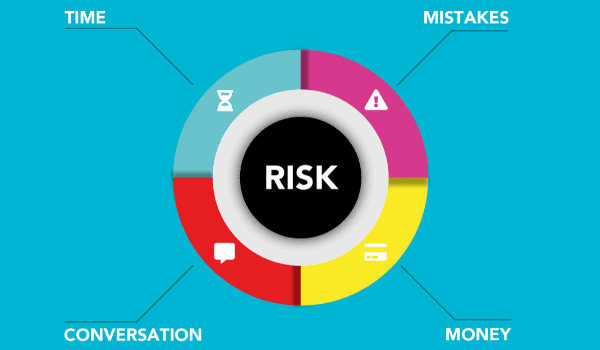 TIPS ON SENSIBLE RISK TAKING
Some tips from us on how to approach risk taking, new ideas and new concepts following what can only be described as a bonkers year.
Be cautious
But confident when planning for 2021 but do so with conviction.
Try
The one thing you may regret most is not ever having tried that thing that's been stuck in your head. 2021 presents numerous opportunities for the risk taker. Give it a go! What have you got to lose? Really?...
Progress always involves risk
You can't steal second base and keep your foot on first (as a famous quote once said). So maybe it's time to work outside of your comfort zone and push harder - as this sector knows how to do so well. Challenge? Pft, we laugh in the face of that. Next?...
Fatigue
It's real. It's strong. Don't let this year's ongoing toll make you so fatigued that you give up on creativity. Take a break, do something else for a moment and then get back to it.
The above actions are already being put into place by some brilliant businesses, people and brands and we definitely view them as as building blocks towards the live events sector finally opening up after an incredibly tough year.
We've been working hard over the recent lockdown on new and exciting events for our own portfolio and look forward to sharing these with you in due course. While it's been a tough year we continue our expansion with confidence and are sticking solidly to our plan of doing what we do best. Building world class events.
#s3k #eventprofs #eventprofsuk #lovewhatyoudo #liveevents #S3K Group